HYDERABAD, India — With a nation running out of hospital beds, a shortage of medical staff, poor quality of care, and government spending on medical care historically at only 1% of GDP, the poorest in India are in desperate need of help during the latest COVID surge.
"No government — even India — can handle a crisis like this alone," said Archbishop Joseph D'Souza. "So, we are doing our part. Since the outbreak of the COVID pandemic last year, the Good Shepherd Virtual Health Care Clinics and staff have helped over 500,000 people across India."
Good Shepherd Health, which is led by Dr. Beryl D'Souza-Vali, is committing resources over the next year to help 1 million Indians get the basic essentials they need to live a life of dignity. They are targeting the marginalized and poor, and focused on providing urgent healthcare relief and rehabilitation, in addition to much-needed food relief.
Since April 2021, India continues to report an official 300,000 to 400,000 new COVID-19 positive patients per day, and an average of 3,000 deaths per day. The actual number of infections and deaths may be much higher. The New York Times reported this week it's likely that 1.6 million people in India have already died due to Covid-19. Due to the complexity of vaccinating a sprawling nation like India, infections and deaths will continue to burden India for some time.
"The poorest Indians, especially in rural areas, do not have adequate medical care and the infrastructure that they need and deserve," said Archbishop D'Souza. "Health is a fundamental human right and people of faith ought to be front and center working to restore equity when it comes to healthcare. Our aim is to provide help to 1 million Indians across 15 states of India through our national network of health workers, schools, community development workers and churches."
Recently in one of Good Shepherd's rural centers, a lower-middle-class family mentioned that their 30-year-old son, who had been hospitalized, had incurred a bill of 100,000 rupees in two days (US $1,333). The man, having only mild to moderate symptoms, was told his condition was severe. The family was frightened and spent all their savings, leaving them with no money for the treatment of their 55-year-old father who was at greater risk for actual severe disease.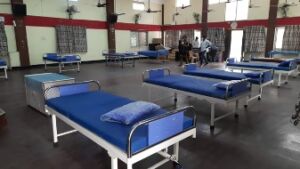 Dr. Beryl D'Souza-Vali, the head of the Good Shepherd Health initiative, is working overtime to ensure her team is doing everything possible to help save lives during this second wave across many regions of India.
"At Good Shepherd Health we have been providing health care to communities long before COVID-19 and we will be here afterwards," said Dr. D'Souza-Vali. "This, however, is a critical hour and we must do more, now. We need to scale our efforts. We have already served hundreds of thousands of people since this COVID ordeal began last year, but now we must do more of everything, immediately. This is a crisis unlike anything we have ever witnessed."
The first six months of their vision to help 1 million Indians will be focused on immediate relief for the ongoing COVID-19 health crisis. This includes the following goals:
Dispersing tens-of-thousands of COVID-19 care kits

Providing oxygen concentrators

Scaling up to 250 community health workers, immediately, and working with local governments

More than doubling virtual health care centers and developing nation-wide virtual health care clinics in partnership with an international group of expert physicians and virtual health care technology advisors

Turning the current temporary 50-bed emergency covid care facility into a long term hospital focused on COVID care and virtual health care across the nation immediately

Providing millions of meals across the nation
___________________________
Most Rev. Joseph D'Souza is a justice and peace campaigner, civil rights advocate, interfaith peacemaker and Christian theologian. Rev. D'Souza presides as moderator bishop and primate — or archbishop — over the Good Shepherd Church of India and is the president of the All India Christian Council. He is also a founding member of the Congress of Christian Leaders, an association of churches that provides a representative voice for its members and members' organizations with a reasoned approach that is unifying, missional, objective, nonpartisan, global, and biblical.
Dr. Beryl D'Souza-Vali is the Director of Good Shepherd Health. Dr. Beryl worked in a mission hospital in South India and was inspired by the suffering of abused women before joining Good Shepherd in 2008. She is a Pediatrician who studied at the Christian Medical College Vellore, one of India's most celebrated medical colleges. She also holds membership of the UK Royal College of Pediatrics (MRCPH) She has 13 years of experience in frontline health work involved in building a comprehensive community health development program especially focused on children and women and prevention of sex trafficking. She is also becoming a well-known medical professional and an international speaker on justice issues for women and children and the right to life.